The Characters
1 Tablespoon GF vegan margarine
4 Tablespoons powdered sugar
¼ teaspoon GF vanilla powder
2 rice crisp breads
Forget about calories with this one. Chances are you don't need to worry about weight if you are gluten and dairy intolerant..., you don't indulge in the readymade sugary temptations that abound on the grocery store shelves, that pile on the pounds, because they contain gluten and/or some other food you are sensitive to. Every GF cookie I've seen in stores has some ingredient I'm sensitive to. When I first bit into this plain crispy rice wafer, the texture reminded me of the neopolitan sugar wafers that come in vanilla, chocolate and strawberry flavors and I knew I had to make a gluten free version. This one is vanilla flavored. It is quick, easy and delicious with some fresh fruit.
Try adding cocoa powder if you prefer chocolate. Powdered flavorings won't thin the filling.
First, measure one T. vegan margarine and melt in microwave, approximately 15 seconds. Just get it melted, it doesn't have boil.
Add the powdered sugar and powdered vanilla to the margarine. Blend with a fork until it's nice and creamy.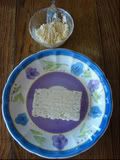 Now pile the yummy, sugary filling onto the rice crisp bread as thick as you like it. For me that is ¼ inch, Top with another rice crisp bread and enjoy.