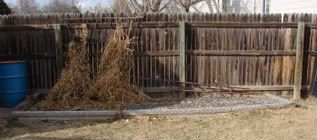 This is my strawberry garden, ...rather messy after winter. We threw some old cyclone fencing and a broken trellis across it for the winter because our dog was having territory issues with the dogs next door and would tear through my strawberries, leaving torn up plants in her wake. The dead vines hanging on the trellises are perennial sweet peas.
Actually, this is the second version of a strawberry garden I planted probably 18 years ago. The first one never thrived as it was shaded by a big cottonwood tree AND tree roots interfered with the whole garden concept. Impossible to dig and plant around tree roots. Those plants died out and the garden was abandoned.
Then the cottonwood's lead branch was destroyed in the October Blizzard of 1994. The tree began to slowly die, though we kept it for a long while because my boys loved to climb it AND one end of a zip line was attached to it. A few years ago we had the tree cut down. Meanwhile, on the other side of the backyard, my neighbor's strawberry plants had migrated under the fence into my border garden. But our side of the fence was very shady and again the strawberry plants didn't produce much fruit.
Last year, I decided to transplant a bunch of those 'volunteers' to my old strawberry garden, which now sits in the sun most of the day. I put in as much compost as my compost bins had produced, to enrich the soil and started anew.
I was rewarded with the tastiest strawberries I've ever had in my life. The flavor is intense and sweet. Now, I simply cannot abide even the organic strawberries that our local supermarket carries. "My" strawberries have the deepest, most solid red color I've ever seen. I have no idea what name they are called, but who cares. They taste great.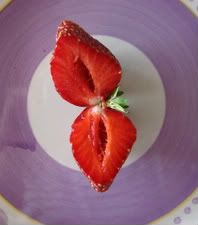 Below is what the perennial sweet peas look like in summer...I left these that I had planted in interim years "between strawberry gardens" because they are so beautiful . I tie them to the trellises. I'd like them planted somewhere else because they throw a million seeds that volunteer, but right now I don't know where to put them.
Here is the garden all cleaned up an hour or so later.
Can't wait to eat some of these strawberries in a couple of months!
P.S. The blue metal drum there off to the left... it's full of compost from the local sewage treatment plant. It is deemed safe for kitchen gardens, but I just can't bring myself to use it on them. I do use it on the lawn and flower gardens though. Powerful stuff...a little goes a long way,...the flowers love it.